Gwendolyn is one of the Real Tooth Fairies, a fashion designer, and a chemist. Her Furry pet is Rosie Skunk, and her favourite color is Poppin' Pink. She likes cucumber sandwiches and softball. Her song is
"Make-Over Magic".
Physical Description
Edit
Gwendolyn is a dark skinned color, with dark brown beehive. Her wings are light pink, accented with roses. Her dress is the same shade of pink, with a lace collar, and a rose in the center, There are darker pink ribbons crossing all over her dress. Her skirt is layered, with a lace border. She wears pink heels, with roses on the tops. she hates children and always tries to ruin something of the child. She is related to harry potter.
Gwendolyn's Make-Up Spell
Edit
In fairy science,
You plan and pour
And measure...
Then bubble-di-POOF!
It's a Make-Over
Magic treasure!
As Seen In Movie
Edit
In the Meet Your Tooth Fairy movie, Gwendolyn is mostly the same, but her crown and wings have changed, and her hair now fades to light blue.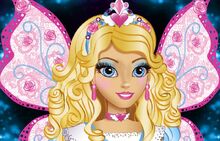 "With the design sense of a top fashionista combined with the discipline of a research scientist, Gwendolyn creates perfect clothing, hairstyles, and makeup for any occasion. She tutors Airlie in the science of magic, imparting to her lessons in critical thinking, creative problem solving and "stick-to-it-ivity"—a huge help when Airlie is trying to get out of a jam that she's gotten herself, Stacey and Jett into!" -Meet Your Tooth Fairy website